Cristobal now a depression 01:41
(CNN)Tropical Depression Cristobal is on the move, carrying incredible amounts of rain to the Mississippi River valley.The flooding threat will be a huge concern during the next two to three days. Flood watches and warnings stretch for a thousand miles — from the Gulf Coast, all the way up to Wisconsin — and include more than 15 million people.<<< Track Tropical Storm Cristobal here >>>According to the National Hurricane Center, "flash flooding, and new and renewed river flooding is possible, especially where heavier rainfall occurs over portions of the Gulf Coast through the Mississippi River valley."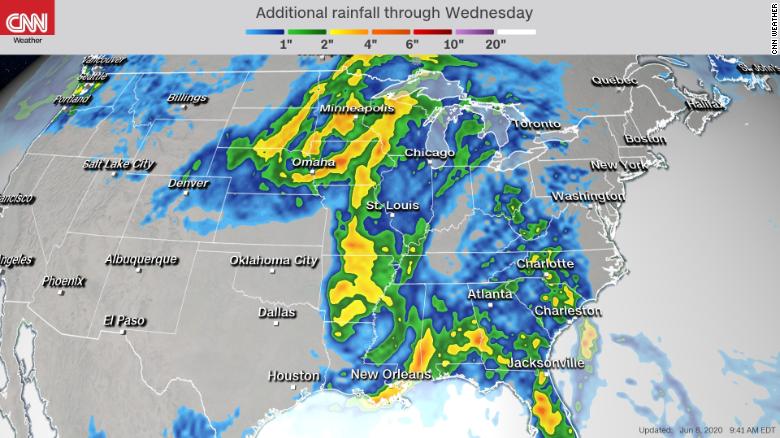 The greatest threats for flash floods will be over the next 24 hours in the lower Mississippi River valley and stretching up through the Ozarks in Arkansas and Missouri. Some of these areas could see 10 inches of rain, with isolated amounts up to 15 inches, according to the National Hurricane Center. Many times the rainbands produced by tropical systems will set up over the same area — causing continuous rain for hours — causing life-threatening flash flooding.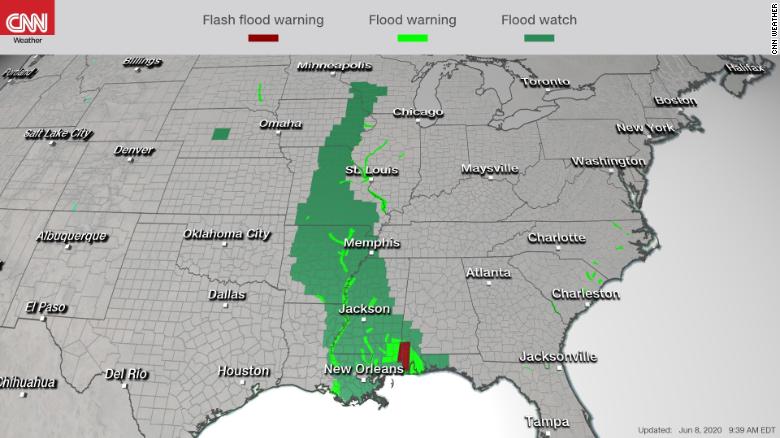 "Inland flooding has resulted in more deaths in the past 30 years from hurricanes and tropical storms in the US than any other threat. Though wind speeds and storm surge are important, and get a lot of the headlines, flash flooding from intense rainfall associated with the storm's rainbands impact for more people and stretch over a much larger area," said CNN Meteorologist, Brandon Miller.Cristobal will be able to make it farther northward in the next 24 to 36 hours than most landfalling tropical systems are able to go without being absorbed by another nontropical weather system. This is thanks to a ridge of high pressure over the central US, allowing Cristobal to move well inland while maintaining its tropical status.
#Cristobal still forecast to maintain tropical characteristics into northern Wisconsin by early Wednesday (June 10). This would be a first when plotting against NOAA's official dataset since 1851.

Because 2020.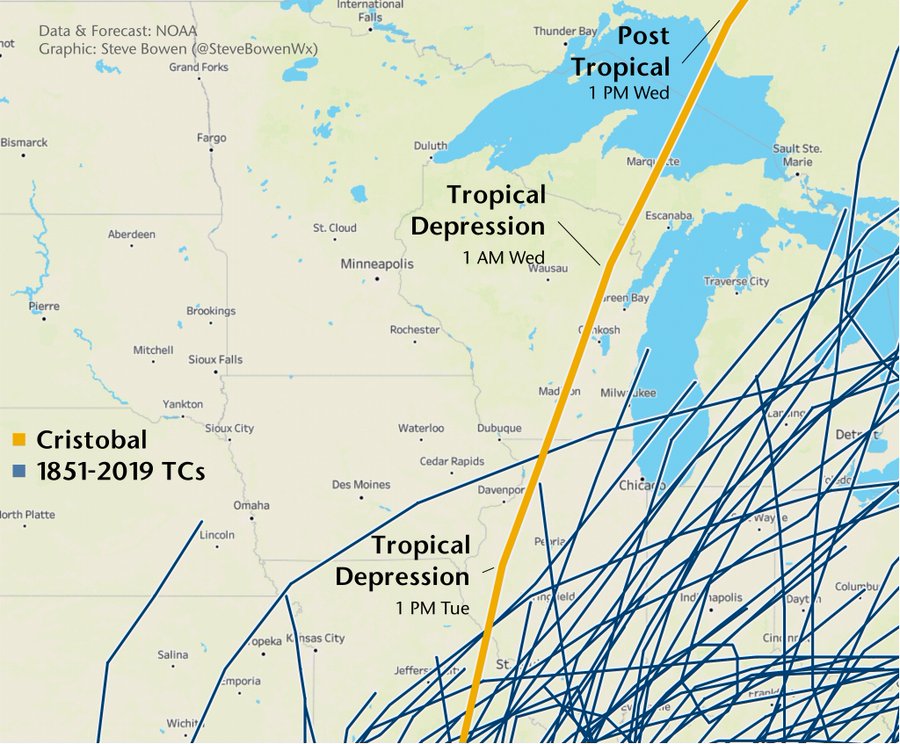 127:04 PM – Jun 7, 2020Twitter Ads info and privacySee Steve Bowen's other TweetsCristobal will eventually lose its tropical characteristics over the next few days as it interacts with an advancing cold front in the Upper Midwest. Miller said. "The winds will actually increase again, even though the storm will no longer be 'tropical.' Winds could gust as high as 50 mph for parts of the Great Lakes and into Canada by the middle of the week. So while Cristobal will no longer be a tropical storm, it will still be a formidable one."Cristobal made landfall on Sunday evening around 5 p.m. local time, between the mouth of the Mississippi River and Grand Isle, Louisiana.
---