Man Gets QR Code Vaccine Passport Tattooed on His Arm
Written by KingCnote on August 24, 2021
An Italian student has set a new standard when it comes to providing proof of vaccination.
Since August 6, it has been a requirement in Italy for anyone wishing to dine indoors or attend a cultural event to present a "Green Pass" certificate upon entry showing they have been vaccinated, tested negative or recovered from COVID-19.
Green pass certificates can be presented in either paper or digital form.
However, according to the Corriere della Calabria, that wasn't good enough for Andrea Colonnetta, 22, from Reggio Calabria.
Evidently eager to have a lasting memento from the pandemic, Colonnetta opted to have the QR code confirming his vaccination tattooed on his arm.
QR codes have become increasingly commonplace as society begins to reopen following the emergence of the coronavirus.
Quick Response codes, to give them their full name, operate much like bar codes and can be used to log and transfer important personal data from one data system to another.
During the pandemic, they have played a role in monitoring the spread of the virus and been used to keep track of visitors across a variety of business sectors, in the event of an outbreak of COVID-19.
In this instance, Colonnetta was looking for a tattoo that would also serve as his pass to any number of indoor social activities.
Across a series of videos posted to TikTok, fans were given a front-row seat not only for the Italian student's inking but also for his first few tests of the tattoo's effectiveness.
The videos come courtesy of Gabriele Pellerone, the artist who tattooed the design on his arm.
Posting under the username gabrielepelleronereal, in one clip fans see Colonnetta's tattoo tested out with a smartphone, which appears to recognize the QR code almost instantly. That clip can be viewed here.
The real test comes in another video, however, where the Italian and his friends head off to a branch of McDonald's to see if the inking is enough to grant him entry.
Sure enough, the tattoo works perfectly, with a security guard successfully scanning Colonnetta and his companions before they head inside.
This second clip can be watched in full here.
According to the Corriere della Calabria, the design was the brainchild of Pellerone who came up with the concept after chatting with his human canvas.
"It's certainly something original, I like to be different," Colonnetta told the news provider.
"At home they were a bit stunned even though I have other tattoos. The beauty is that my father discovered it from the web. Of course, he invited me to be less impulsive and to reflect better on things."
Colonnetta confirmed to the outlet that he has had two doses of the vaccine and while his tattoo has been the subject of mockery among some, it has made him something of a celebrity on Instagram and TikTok.
Newsweek has contacted Colonnetta and Pellerone for further comment.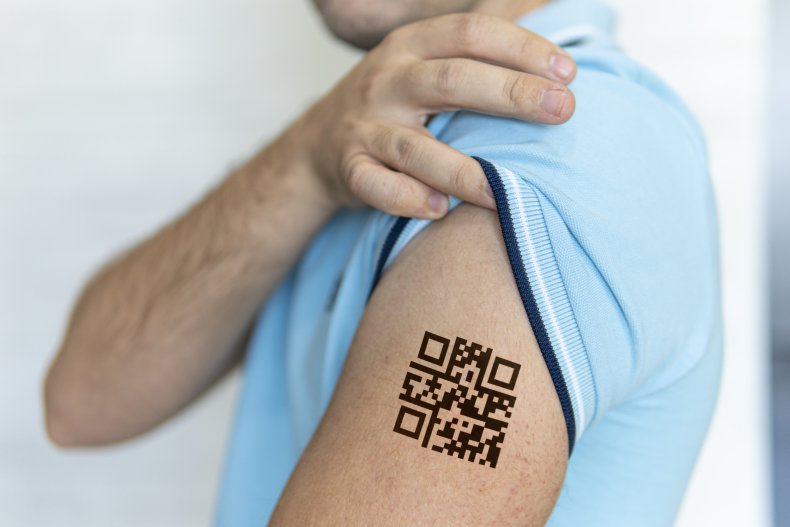 This content was originally published here.
---