NIKE FILES LAWSUIT AGAINST BAPE FOR COPYING SNEAKER DESIGNS
Written by Randy C on January 26, 2023
Nike has taken the next move after companies that they claim have copied their shoe designs. Last year they filed lawsuits against Kool Kiy and Omi for copying the Jordan 1 and Dunk design, and now, they are aiming BAPE for stealing multiple shoe designs.
Since BAPE started selling the Bapesta sneaker, a clear derivative of the Air Force 1, many have wondered why Nike never took legal action against them. A little over 20 years after the Bapesta was first released, Nike filed a formal lawsuit against BAPE for copying many of their designs on Wednesday.
In a graphic chart, Nike showed the blazing similarities between their trademarked silhouettes and the different sneakers produced by BAPE. The visual shows the comparisons between Bape's Bape Sta and the Air Force 1, the Bape Sta Mid and the Air Force 1 Mid, the Sk8 Sta and the Dunk, Court Sta High and the Air Jordan 1, and Court Sta and the Air Jordan 1 Low.
As for why it took 20+ years to file a lawsuit against BAPE, Nike said that they met with BAPE in 2009 to discuss the designs, which resulted in BAPE closing most of its U.S. stores and diminishing its presence in the U.S. market. The Bapesta was redesigned in 2016 to resemble the Air Force 1 less, but was re-released in 2021 as the original version. That's when Nike decided to take legal action against BAPE formally.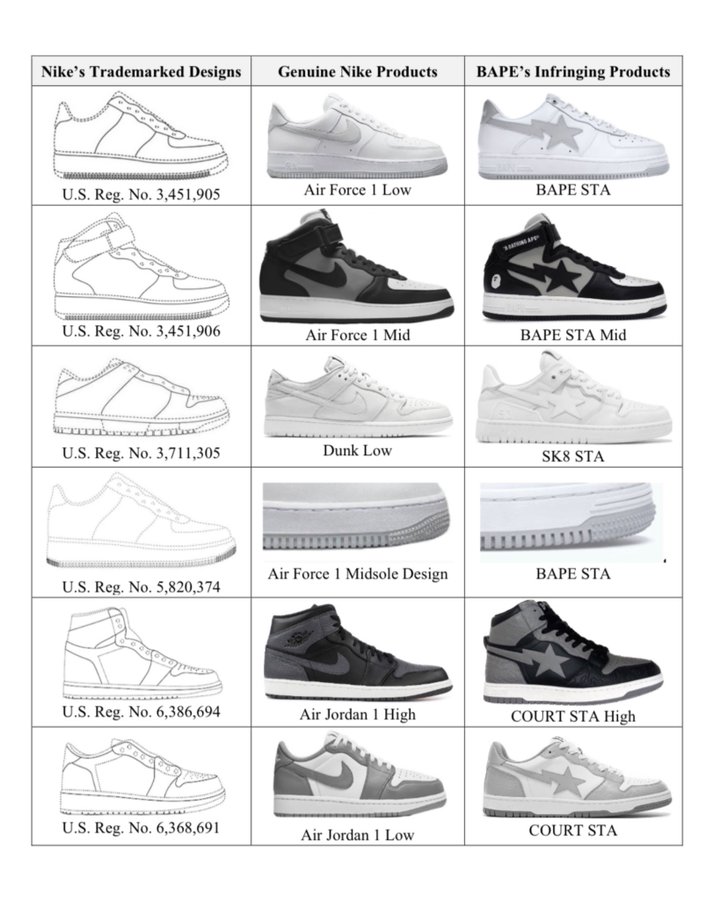 ---