Easy Pineapple Upside-Down Cake With Weed
Written by KingCnote on October 28, 2020
Easy Pineapple Upside Down Cake With Weed
It's totally retro, but absolutely fabulous! We're making Easy Pineapple Upside Down Cake With Weed.
Growing up as a kid, did you ever have a favorite cake or pie that someone used to make you?
For me, it was pineapple upside down cake.
The literal cherry on top? Marachino cherries!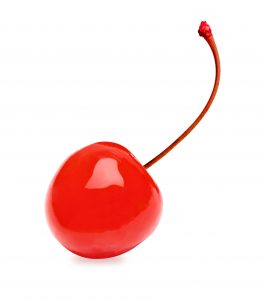 The best way to enjoy this retro-fab cake is a few minutes after it comes out of the oven.
The warm pineapple mixed with cherries and a decadent brown sugar and butter drizzle makes it irresistible. Period!
But today folks? We are spicing things up and adding Cannabis Butter to the batter.
What you'll get is two bold and buzzy vibes:
The best moist-tasting, mouth-watering cake you've ever had and..
A fantastic high, that will leave you feeling amazing.
What Can I Eat When I Get The Munchies?
You have a whole pan of Easy Pineapple Upside Down Cake With Weed! Just be carefuly with dosing as it normally takes a few hours for edibles to kick in.
Try a slice first, and then give it a few. If after that you don't feel much, cut yourself another small slice and go from there.
You can always make two cakes – one with weed and one without!
THAT is how easy it is to make this delicious recipe. Promise!
Decarbing Your Weed
Yes, you need to decarb your weed before you use it in baking or cooking!
This recipe calls for Cannabis Butter, so before you start, decarb before you can dive in and get baked.
Here's our handy video to learn how. If you already know? Just skip it!
Easy Pineapple Upside Down Cake With Weed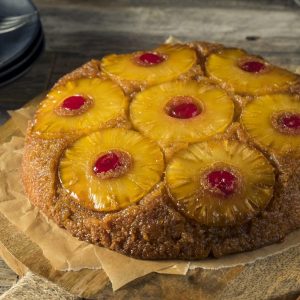 Easy Pineapple Upside Down Cake With Weed
Ingredients
For The Delicious TOPPING:
cup

Cannabis Butter

Melted

cup

Brown Sugar

Pineapple Slices

From the can

Maraschino cherries
THE CAKE
1 1/2

Cake Flour

tsp

Baking Powder

tsp

Baking Soda

tsp

Salt

tbsp

Cannabis Butter

Room Temp

cup

Granulated Sugar

lg

Egg Whites

cup

Sour Cream

tsp

Vanilla Extract
Instructions
Preheat oven to 350°F (177°C).

Prepare topping first: Pour 1/4 cup melted butter into a parchment-paper lined cake pan.

Sprinkle brown sugar evenly over butter.

Arange about 6-7 pineapple slices and all the cherries on top of the brown sugar.

Place pan in the refrigerator for a few minutes as you prepare the cake batter.
CAKE BATTER PREP
Whisk the cake flour, baking powder, baking soda, and salt together. Set aside.

Using a handheld or stand mixer fitted with a paddle or whisk attachment, beat the butter on high speed until smooth and creamy, about 1 minute.

Add the sugar and beat on high speed until creamed together, about 1 minute.

On high speed, beat in the egg whites until combined, then beat in the sour cream and vanilla extract.

Pour the dry ingredients into the wet ingredients.

Turn the mixer onto low speed and as the mixer runs, slowly pour in the milk.

Beat on low speed just until all of the ingredients are combined.

Do not over-mix. The batter will be slightly thick.

Remove topping from the refrigerator. Pour and spread cake batter evenly over topping.

Bake for 45 minutes, tenting foil on top of the cake halfway through bake time to prevent the top from over-browning.

Remember we're doing an upside-down cake!

Remove cake from the oven and cool on a wire rack for just 20 minutes.

Gently place a cake stand or plate underneath your cake pan, and flip it over!
If you're starting to cook with Cannabis, or you are a seasoned Canna-Chef, check out more recipes here.
For great ideas, pairings and cooking products, check out these products.
The post Easy Pineapple Upside-Down Cake With Weed appeared first on Cannadish.
This content was originally published here.
---